We are thrilled to announce that 20Cube has inducted a new truck fleet in Kenya, East Africa, to cater to the demands of businesses in the region. The new transport services by 20Cube will operate from Mombasa port, Kenya to Nairobi, Inland ports in Uganda, the Eastern Democratic Republic of Congo, Juba in South Sudan & Rwanda.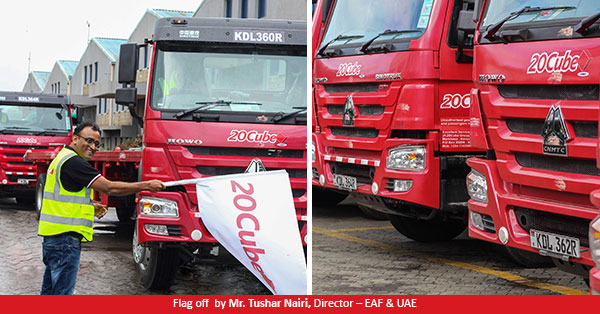 This new on-road fleet is part of our expansion plan, as we are committed to provide exceptional logistics solutions to our customers. With our state-of-the-art technology and a team of expert logistics professionals, we are confident in our ability to offer seamless end-to-end logistics solutions for our customers.
Our logistics experts in East Africa have specialized knowledge in international trade, project cargo, customs, and shipment consolidation enabling us to provide quality services to various industries including, but not limited to, Retail, Automotive, Pharmaceutical, Hi-tech, and Engineering Procurement & Construction. Our bundled services combine freight forwarding/cross-border trade and customs clearance, offering customers flexible and value-oriented services.
At 20Cube, we understand that technology is a key driver in the logistics industry. Our smart digital portal provides customers with complete transparency and end-to-end visibility from purchase orders to the point of delivery. We are excited about our new fleet of trucks, these trucks can handle various types of cargo, providing our customers with greater flexibility and customization options to suit to their business requirements.
We are poised to become the leading logistics and supply chain provider in East Africa.